Patient Newsletter
Everyday Habits to Help Lengthen the Life of Your Teeth
May 15th 2013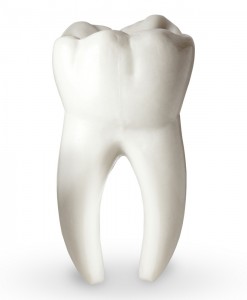 Here's a brief list of everyday teeth cheats, or simple habits you should adopt to increase the lifetime of your teeth. These little rituals are easy to fit into anyone's daily routine, and can really save you extensive time (and money) that may otherwise be spent on tooth repairs and restorations.
1.

Keep a toothbrush and toothpaste in your purse, desk at work, or your car. Basically, have a toothbrush on hand wherever and whenever you snack. It's important to brush right after eating (even if it's just a tiny snack) to get rid of as much bacteria as quickly as possible.
2.

Many people make a habit out of sipping coffee or tea all day. Unfortunately, both of these drinks can do some serious damage to your teeth, as they contain staining ingredients for your smile. You've heard it a million times, but that's because it's true: drinking water is the best thing that you can do for your body (and your enamel). If you prefer something hot, try simply heating up your water before drinking. If not, try to cut down your daily intake of other beverages.
3.

Drink soda or coffee through a straw whenever possible. This minimizes the amount of enamel that the staining beverages come into contact with. Your pearly whites will thank you in the long run, and you'll be able to continue to show off your smile.
4.

Don't use your teeth to open anything! They are specialized tools which are solely meant for biting foods and chewing. Think of it this way: opening a container with your teeth is like using a screwdriver to bang in a nail. You want your teeth to stay with you for life, so don't do actively destructive things to them!
Even if you can't fit all of these practices into your day-to-day life, a couple of these habits can add protection to your smile. Consider other ways you could adjust your schedule to adopt new and helpful changes to your routine!
Set a Good Oral Health Example for Your Child
April 16th 2013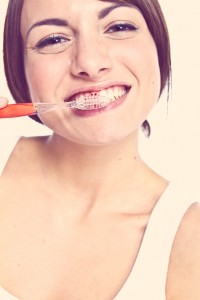 How much do you think you influence your little one? If you think the answer is "Not much," guess again. According to a study published by the Journal of Dental Research, parents have an enormous amount of influence on their children, and that extends to areas of health and wellbeing. The study found that if a mother had a cavity, her child was twice as likely as other children to also have a cavity.
The takeaway? Teaching your son or daughter about brushing and flossing—not to mention practicing what you preach—can help your child develop healthy habits that will stick with them throughout their life.
Also important are regular dental visits every six months. Regular visits will give your doctor a chance to look for common oral health conditions and provide treatment if necessary. Conditions like gum disease and tooth decay need to be caught early so they can be treated quickly, before they have a chance to become more serious.
How long has it been since you or your child saw a dentist for a regular visit? If it's been more than six months, call your local dental office today to reserve an appointment. During your and your child's visit, your doctor can talk to you both about brushing and flossing and can offer helpful advice you both can use on a daily basis.
Remember, the behavior you model at home makes a real difference. Help your child develop diligent brushing habits by demonstrating them yourself.
How Gum Can Actually Help Your Oral Health
April 2nd 2013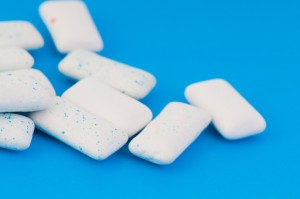 When asked to come up with a list of foods that dentists hate, gum will almost certainly appears in your top five. After all, this sticky, chewy candy can leave your jaw sore and work its way into tricky places in your smile – not to mention that it's a natural enemy of traditional braces. But have you heard that the treat can actually improve the health of your teeth and gums instead of hurting them? It's true! The American Dental Association has officially recognized that specific types of sugarless chewing gum have been scientifically proven to bolster optimal dental health.
Chew Up a Storm and Keep Smiling
The act of chewing gum helps to increase the flow of saliva in your mouth, which can help clear away stray food particles and acids that are left by bacteria. Over time, these acids can wear down your tooth enamel and cause unwanted damage and decay. More saliva helps relieve this problem while also bringing with it more calcium and phosphate, which help to strengthen enamel. By chewing sugarless gum after meals for around twenty minutes, you can effectively keep your teeth cleaner than ever before!
Of course, chewing gum is not an adequate substitute or replacement for brushing and flossing. Instead, these techniques should be used in conjunction in order to ensure that your teeth and gums stay as healthy as possible through the years. The ADA recommends brushing twice a day with toothpaste that contains fluoride and flossing at least once.
Additionally, when choosing gum to chew, look for the ADA seal. This is a reliable assurance that the product will be safe and effective for your oral health. As of right now, the choices of gum that have earned this seal are sugarless, having been sweetened by non-cavity inducing products. While gum that contains sugar also helps to increase the production of saliva, it can also lead to an increased risk of cavities.
Be sure to talk to your local dentist if you have any concerns about chewing gum!
Oral Cancer Prevention
March 19th 2013
It's common knowledge that the use of tobacco products can increase your overall risk of oral cancer, but there are other factors at play as well. Regular exercise, proper diets, and good habits are the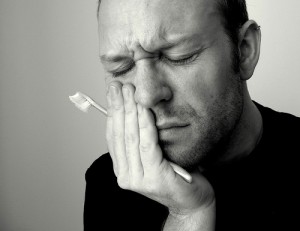 building blocks for any healthy lifestyle, but they can significantly lower the possibility of many diseases. As always, regular brushing, flossing, and other beneficial dental care are your best tools for preventing the development of many diseases, and can aid in the fight against cancer. If you are already affected by oral cancer, this information may also help during your treatment and after.
Risk Factors for Oral Cancer
Tobacco usage, especially smokeless tobacco, such as chewing tobacco, is the only known cause of oral cancer. The best way to prevent oral cancer from developing is to completely stop the use of tobacco products. We know that it can be hard to quit this addictive habit, but it's one of the best things that you can do for your health, and the health of your loved ones (secondhand smoke is a proven cause of other types of cancer). Your dentist and doctor can give you great advice and other tips to help you quit using tobacco products. Please turn to them for advice and let them know that you want to quit. They will be 100% supportive, which can really make a difference in your quest to stop!
If you drink three or more alcoholic beverages a day, you have a greater chance of getting oral cancer, as well as additional health problems. Drinking and smoking often coincide, which may attribute to the high cancer rates in those who use drink. However, studies have shown that frequent binge drinking also corresponds with an unhealthy diet, which can increase one's risk for cancer. The best way to control these factors is to limit alcoholic beverage intake, and choose healthier foods. Leafy, green vegetables, foods which are high in vitamin B, green tea, and other antioxidant-rich foods have been continually linked to fighting or preventing cancer. You should avoid frying the vegetables as well, as this form of cooking effectively zaps the foods of any nutritive content.
Vitamin D is great for overall health, and has been known to lessen chances of acquiring cancer. High levels of vitamin D enable bones and teeth to absorb the calcium they need to stay strong and healthy. The natural way of getting vitamin D is from safe levels of sun exposure. Unfortunately, sun exposure is a risk factor for oral cancer on the lips, and for other types of cancer on other places in the body. Regular sunblock and limited time in the sun can help deter these unwanted effects. If you want to play it safe or if you're exposure to the sun is already limited, you may want to talk to your dentist or doctor about vitamin D supplements. Adding these to your healthy diet could help you avoid oral cancer.
Need help? Don't hesitate to ask!
If you're unsure about your chances of developing oral cancer or other cancers, please turn to your healthcare professional. Your dentists and doctors want what's best for your well-being, and should be able to provide helpful tips, or refer you to a trusted colleague who can. It's never too late to improve your health!
Protection for Your Smile This Spring and Summer
March 4th 2013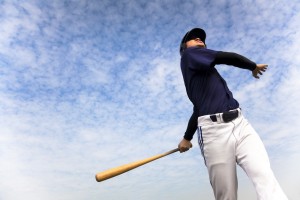 Now that we're heading into warmer weather, people are likely to spend more time outdoors doing a variety of activities, including sports. Taking advantage of the higher temperatures to get some exercise and to spend time with friends is a good thing, of course, but athletes should keep a few pointers in mind related to their oral health.
Don't forget your mouthguard
A large percentage of sports-related injuries—perhaps as many as 40%–involve the face. That's why wearing a mouthguard is so important. With a custom-made mouthguard from your local dentist, your chances of experiencing tooth loss are almost completely eliminated. It's also been shown that a custom-made mouthguard can significantly reduce the risk of having a concussion. All of this can, in turn, improve your performance and keep you safer as you play, no matter what your sport is.
Limit your consumption of sports drinks
Sports drinks may have a refreshing taste, but they're not good for your smile. That's not just because they contain high amounts of sugar; it's also because of their acidity. Consuming too many sports drinks can eventually lead to tooth erosion, hypersensitivity, and staining. To protect your smile, limit how many sports drinks you consume. You will also want to use fluoride toothpaste and even a fluoride mouthwash to strengthen your smile by re-mineralizing teeth.
Stay hydrated with water
If acidic sports drinks can damage teeth, fluoridated water can help you strengthen them. That's because fluoride draws important minerals and nutrients to teeth. Outside of that, water can help you keep your smile clean and will help you keep your keep your body cool and hydrated. Best of all, you can drink as much as it as you want without any ill effects.
Do you questions about how else you can protect your smile and your body this summer as you hit the field? Talk to your local dentist today.